18 years on, no nod for Suncity hi-tech township yet, ET RealEstate
GHAZIABAD: The GDA board cancelled a plan submitted by Suncity Hi-tech Infrastructure for developing a residential project on 828 acres off NH-9, citing MoU violations and dues. The move leaves hundreds of homebuyers in a lurch.
The residential project, proposed in 2005 under the state government's hi-tech township policy for ensuring homes in an already-bustling city, was supposed to come up on 4,312 acres. However, repeated protests by farmers for more compensation stalled the land acquisition, and the developer could acquire only 828 acres over the next 18 years.
Recently, the GDA board cancelled the DPR for developing that 828 acres, too, citing the failure of the developer to pay nearly Rs 172 crore in land use conversion charges. Earlier, a CAG audit had pointed out this violation.
The board also found that 45% of the 828 acres is government land, which violates its agreement with the developer that only 25% of such land will be assimilated. It has now asked Suncity to give a representation before the state government to figure out where the project will go from here.
"Under the hi-tech township policy, rolled out in 2005, Suncity was to acquire/purchase 4,312 acres, but it failed, forcing a high-powered committee under the chief secretary to downsize the land parcel to 828 acres and accordingly asking the developer to submit a revised DPR," said GDA vice chairperson RK Singh.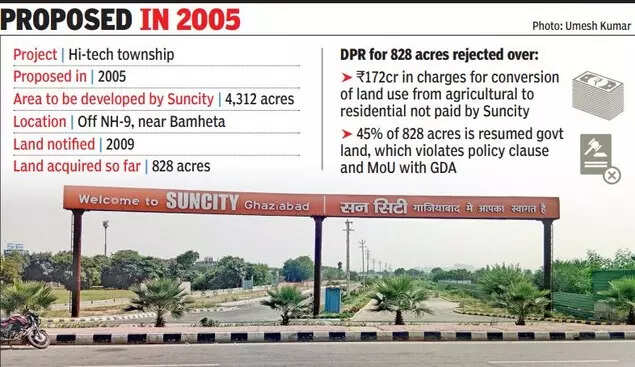 "According to a fresh MoU, the developer was supposed to acquire 75% of that land and reach the 828-mark by assimilating Gram Sabha or Bhumi Prabandhak Samiti (land management committee) land by way of resumption, with the GDA acting as the facilitator. However, the revised DPR showed the developer acquired only 55% of the land, and the remaining 45% is assimilated government land. This was a reason behind the rejection of the DPR," added Singh.
Another allegation is that the developer had acquired land from 22 villages where the land use was agricultural, but the then government waived off the land conversion charge.
"The 2019 CAG audit pointed out that the GDA had suffered a Rs 172 crore loss to the state exchequer in land use conversion charge, following which the state government sought the money from Suncity. But the developer has not paid it so far, which became another reason for the DPR's rejection," said Singh.
Vinay Choudhary, a representative with Suncity, said, "The project has already started, with the booking of flats, villas, and plots starting after the GDA passed the layout plan of 717 acres. The cancellation of the revised DPR is neither good news for homebuyers nor us."