Gr Noida Panel To Resolve Builder-buyer Logjam Now, Real Estate News, ET RealEstate
NOIDA: A nine-member committee under additional CEO Saumya Srivastava will now resolve builder-buyer disputes in Greater Noida.
The city, which is home to 191 residential complexes, sees frequent disputes between residents and representatives of builders or AOAs over matters like issuing NOCs or formation of apartment owners' associations (AOAs), that reach the Authority.
To expedite the resolution of these logjams — over non-issuance of no-objection certificates for transfer memorandum by the builder or AOAs to flat buyers, formation of AOA in a society, transfer of interest-free maintenance security (IFMS) funds of the society among others — CEO Ravi Kumar NG has set up the panel.
"At present, AOAs and homebuyers walk into GNIDA office on all days and seek resolutions for their grievances instantly. The builders sometimes do not adhere to GNIDA's decisions and create a difficult situation for all the parties. Sometimes, AOAs have vested interests and try to arm-twist builders. The present initiative is to put a stop to these issues," Srivastava told TOI.
The panel will also include officials from various departments of GNIDA, including the officer on special duty (OSD), manager of the builder's department, general managers of planning, project, and finance departments, legal officer and two members nominated by Confederation of Real Estate Developers' Associations of India (CREDAI), West UP.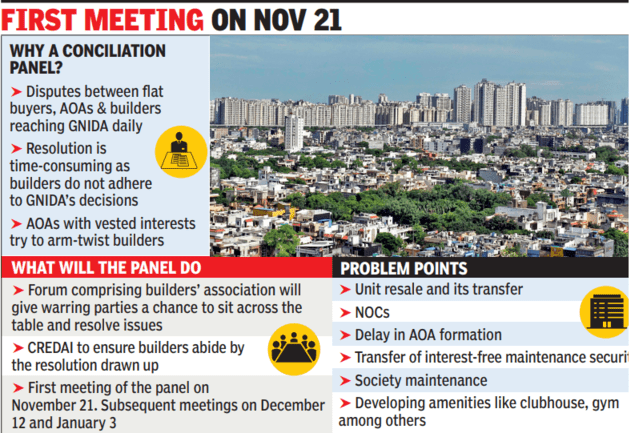 "CREDAI has been roped in to adequately represent builders. The association was made aware that a lot of time is consumed in dealing with the builder-buyer issues without reaching a final and composite solution. From now on, along with the builder concerned, representatives from CREDAI will also be present in the meetings of the panel. Besides that, the entire team from GNIDA will also be present so that all aspects are covered. CREDAI will ensure that builders follow the decisions of the committee," Srivastava added. The panel will convene its first meeting on November 21.
When contacted, CREDAI (Western UP) secretary Dinesh Gupta said the joint committee was set up after mutual agreement and it aimed to mediate and resolve disputes between homebuyers and builders quickly. "Many of the recent issues pertain to unit resale and its transfer, NOCs, maintenance, garbage management, IFMS, and AOAs."
Noida Extension Flat Owners' Welfare Association (NEFOWA) president Abhishek Kumar, however, expressed scepticism as the committee has no representation from the homebuyers' associations.
"There will be no transparency in the decisions taken by this committee. The Authority should have taken a leaf from the UP-Rera reconciliation committee while deciding about the constitution of this present committee. We will write to the CEO and the state government, asking them to include homebuyers in the committee," he said.