One-time, 50% Covid rebate to buy extra FSI to stay till projects completed: Bombay HC, ET RealEstate
MUMBAI: The Bombay HC has held that the 50% rebate for purchasing additional floor space index (FSI) granted by the state government to developers during the pandemic would be applicable till completion of projects and directed the BMC to revalidate or renew building permissions without insisting on payment of the differential premiums.
A January 14, 2021, government resolution (GR) offered a 50% rebate on additional FSI, applicable for ongoing and new projects, provided the premium was paid till December 31, 2021. It also required the builders to pay the entire stamp duty of buyers from the economically-weaker section, as well as lower-, middle- and higher-income groups.
Nine developers, including Prestige Estate Projects, Sugee Two Developers LLP, Ankur Premises Developers, Mayfair Housing and Evershine Builders, approached the court, saying the BMC was not renewing permissions-which lapsed after a year-although projects had begun and was demanding a hefty premium for additional FSI.
A bench of Justices G S Patel and Kamal Khata noted in an October ruling made available earlier this month that the rebate was "one-off", and applied only to projects that had paid premiums by the deadline and undertook full absorption of the stamp duty liability.
The BMC said under the GR, developers had to begin construction within a year of procuring the intimation of disapproval (IoD) certificate, followed by the commencement certificate (CC). The builders disputed that was part of the GR. The HC said, "Very often, developers are unable to obtain CCs for reasons out of their control."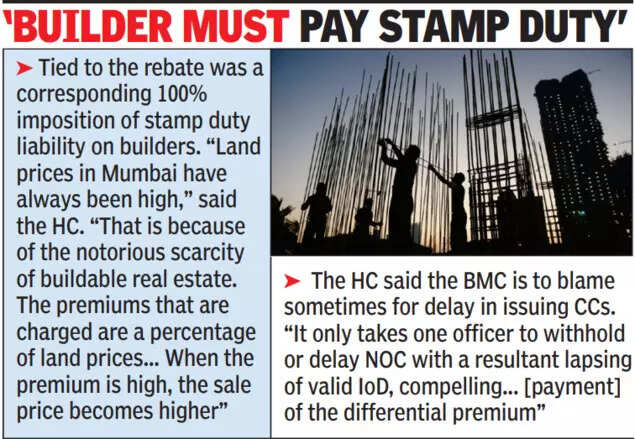 The BMC said additional FSI was not tradable and, hence, lacked market value. The HC found merit in this argument, but said the "purpose of the GR was to provide a fillip to the real estate sector at a time when it was perceived to be in the doldrums".
"The GR came not abruptly, but six months after receipt of an expert report commissioned by the state government from the Deepak Parekh committee," it said.
The panel had said Mumbai's real estate market had become uncompetitive due to "prohibitively high" premiums and levies on builders, and had recommended rationalising the premiums.
Some builders, like Sugee Two, said they had paid without prejudice an additional Rs 1.6 crore this March. The HC told the BMC to refund it but on the request of BMC's senior counsel, Aspi Chinoy, it stayed the refund order for six weeks.