Macrotech Developers raises Rs 650-crore to refinance high-cost debt, ET RealEstate
MUMBAI: Lodha Group, Mumbai's realty major listed as Macrotech Developers, raised Rs 650 crore in debt facilities from Standard Chartered Bank and Deutsche Bank for three years to refinance its high-cost debt, said people with knowledge of the matter.
Standard Chartered Bank provided Rs 245 crore at 9% payable annually, while Deutsche Bank provided Rs 405 crore at 9.5% payable quarterly, the people said.
Both lenders have provided debt in the form of non-convertible debentures (NCDs) with different terms. Bonds raised from Deutsche Bank are unsecured while Standard Chartered bonds are secured.
The Rs 245-crore NCDs issued to Standard Chartered Bank have a clause that the bank would charge 50 basis points more for each rating downgraded of Lodha.
One basis point is a hundredth of a percentage point.
The interest rate on the Rs 405-crore NCDs subscribed by DB are charged at a spread of 2.7% over 90-day treasury bills issued by the Reserve Bank of India (RBI). The spread on T-bills will be reduced by 25 basis points from the December 2023 quarter, per the bond's offer document uploaded by the stock exchange.
The move to refinance debt is an attempt to reduce overall debt even as it has added over half-a-dozen new projects this fiscal year.
During the June quarter, the developer added five projects with potential gross development value (GDV) of Rs 12,000 crore in the western suburbs of Mumbai, Bengaluru and in Alibaug, ET reported on July 27.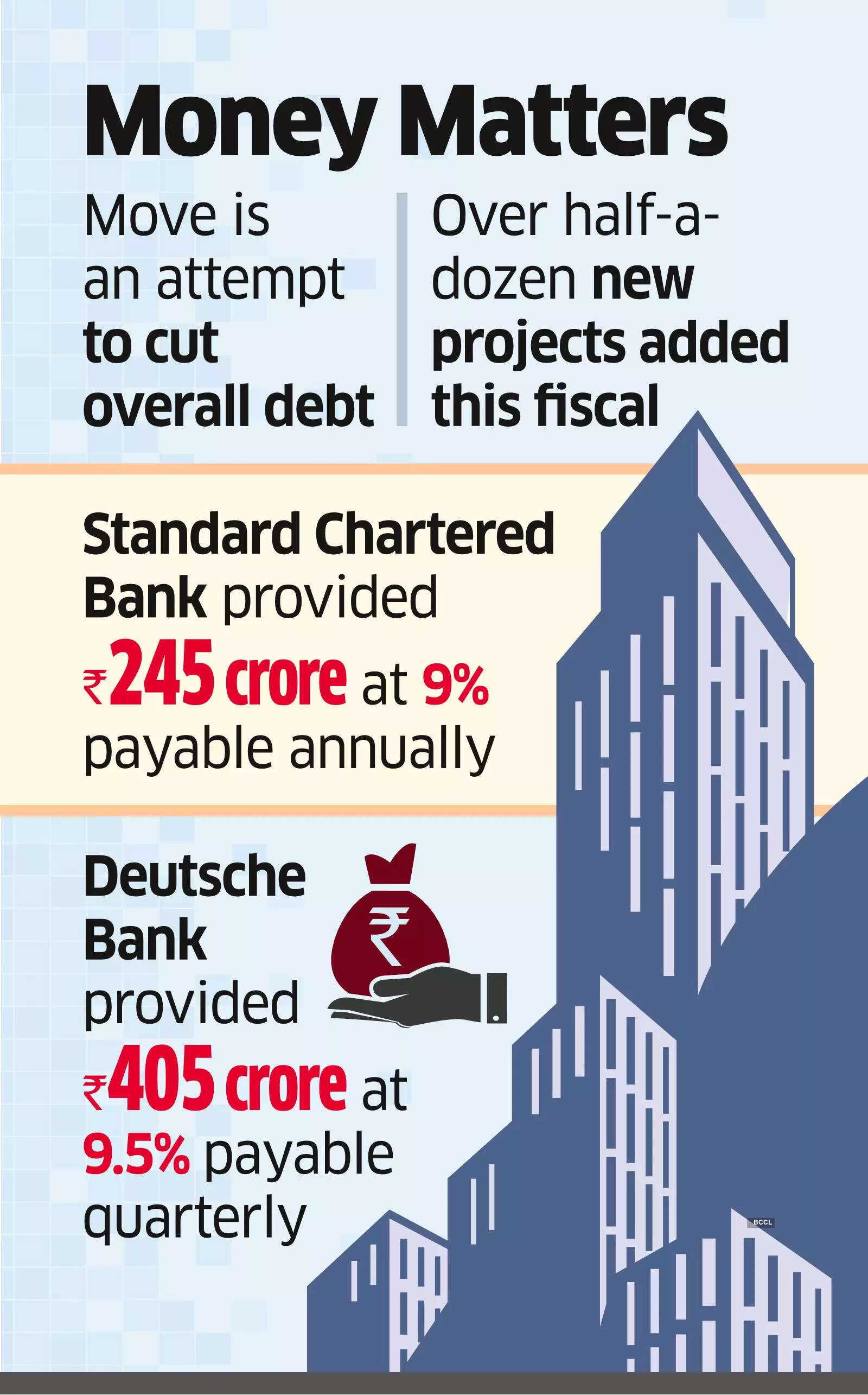 In the September quarter, Lodha added two projects in Mumbai Metropolitan Region (MMR) with a GDV of Rs 2,300 crore, according to the company's quarterly operational update.
In an email response to ET, Sushil Kumar Modi, CFO, Lodha said: "Our exit cost of debt as of June 2023 was 9.65%. Given the NCDs were raised between 9% and 9.5%, they would lower the overall interest cost by 5-10 bps."
Standard Chartered Bank and Deutsche Bank declined to comment.
Net Debt Reduction

Lodha has reduced its net debt to Rs 6,730 crore as of end September 2023 from Rs 16,100 crore at the end of March 2021, Modi said. Higher sales bookings and collections have helped Lodha lower debt.
The company said it is on the path to achieve its full-year guidance for reduction of net debt to lower of 0.5x equity and 1x operating cash flow, with further debt reduction seen in the second half of the ongoing financial year.
The developer has Rs 1,403 crore debt payment in fiscal year 2024 and the group has adequate financial flexibility to manage the upcoming repayments, according to a rating report by Crisil dated September 15. The group has unsold ready-to-move-in inventory of around Rs 6,560 crore in completed, ongoing and planned projects,the report added while improving the rating by one notch to CRISIL A+.
The rating agency said it aims to reduce gross debt to Rs 8,000 crore in fiscal 2024 from Rs 9,050 crore a year.